Who are you?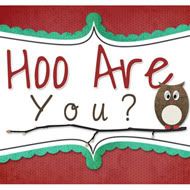 I'm just the little blog that could (or tries) and Leslie at
Night Owl Crafting
does the most fabulous link on Tuesdays that's called Hoo Are You. She lists questions and we all answer them and link up. This is my first attempt at this, let's see how it goes.
What did you get/give for Valentine's Day?
I got flowers (tulips, my favorite) and they are beautiful.
Do you have a vacation planned in the next couple of months or in the summer?
No, not in the next couple of months or summer. We hope to make a trip with very special people in the fall. Greg and I want to do this and I hope it works out!
What is one thing you do to pamper yourself?
Get my hair done every 5 weeks. Thank you, Marsha! Love you!
What sparks your interest to other people's blogs?
Honestly, just creative ideas. I love to see what other people are doing with the same obsession that I have.
What kind of a mood are you in today?
I'm in a great mood. It doesn't do any good to sit around and be unhappy. Find one thing that makes you happy and do it! I discovered Dimensional Magic and have been playing all day!
Thank you,
Night Owl Crafting
, for letting me play!