It's that time of week again at
Night Owl Crafting
!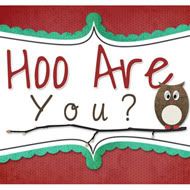 Here are this week's questions.
What are a couple of your favorite green foods?
Asparagus, Green Rice, Key Lime Pie
Do you decorate for St. Patrick's Day?
Just a little bit, not a whole lot. I really don't know why I don't.
Do you have Irish in you?
No, I'm full blooded German.
Do you celebrate St. Patrick's Day?
Yes, I wear green. When I was working for the newspaper, we would participate in all the parades. So much fun!!
Wow, this is kind of hard.
L - Loving
U - Unique
C - Caring
K - Kids! Big and little!
Now for a Missouri weather update. It snowed a total of 4" yesterday and today it's 60 degrees with the sun shining brightly! Go figure.