We get to play at
Night Owl Crafting
!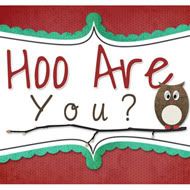 Here are this week's questions.
1. What is your favorite magazine?
I love People Magazine. I also like Rachel Raye and Taste of Home for recipes for when I pretend that I'm actually going to cook!
2. What color are your eyes?
Blue.
3. Do you go to the dentist on a regular 6 month schedule, or do you put it off?
I hate going to the dentist and so there's no way I would go every 6 months. When my kids were all still home, I took them every 6 months. They never thought that was really quite fair.
4. Do you use anything to make your house smell good?
ex: candles, spray,etc...
I love candles, but don't light them very often. For every day, I use the Fabreeze Noticeables. The linen and sky always smell so fresh.
We have two big old babies (dogs). They are brother and sister and spoiled rotten!