Guess what? Hobby Lobby has a new spring gift card! I couldn't resist, I had to make more bracelets. I've got to tell you though, the cashiers at Hobby Lobby are getting a little cranky with me. First I buy the gift cards for $10.00 on each and then turn around and pay for my stuff with them. They used to be so friendly and talk to me when I walked in the door, now they run and hide and argue over who has to help me. I think I better work on making different disguises to wear!
I found a couple of blog hops today that look like fun and I'm going to go play in.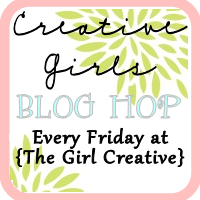 C'mon, let's go hopping!