Actually I've got a couple of snowmen to show you that I made using canning jar lids.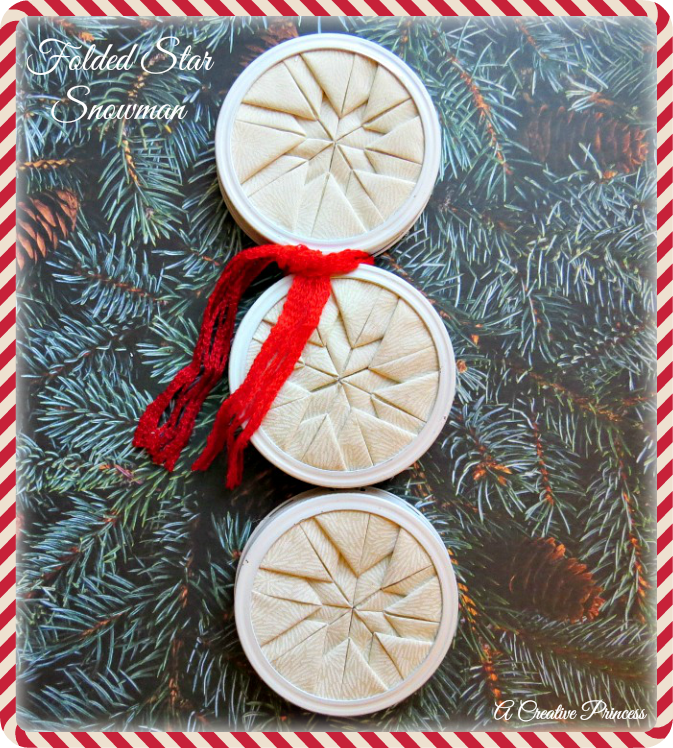 But first up is this little guy that I made using the folded star that I'm loving all over again.
I made it the same way that I did
Here
for the pumpkin, but used 3" squares and only 2 rows.
I cut it the size of the lid and then put the lid in the ring and hot-glued it to hold it in place.
I'll show you what I made the holes with later in the post, but wrapped wire through them to hold the lids together.
I hung him in the middle of the mantel and thought he looked a little lonely.
So I made him a couple of friends using just the lids and not the rings.
I started by painting the lids white and punched holes using my Crop-a-Dile.
(I bought the Crop-a-Dile a couple of years ago and have never used it. It worked fantastic!)
It's so hard to see in that photo, but I added Glitter Mod Podge after they were painted for a little sparkle.
Use wire to hook them together and add buttons and a of course, a scarf.
Hey, look what was on TV, the Sound of Music. If that doesn't scream Christmas, I don't know what does!
Did you watch Carrie Underwood in the live performance? I know she's catching a lot of heat over it, but I loved it!